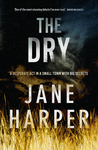 The Dry
by
Jane Harper
My rating:
5 of 5 stars
This was one of the books I had reading envy for, a book that everyone was talking about in 2017 but I didn't get to. It didn't take me long to fix that!
This is a pretty straight-forward crime novel, but what makes it great is that there is a complexity to the story (both a current day event and a past event), the landscape/climate play a major role and the author writes both well, and the author leaves enough space for the reader to formulate ideas along the way. Everything is well paced and I read the entire thing in a day. Sorry, husband, I don't want to watch a movie today, I MUST FINISH THIS BOOK. Huzzah!
I have been to Australia, but only the moist parts. This book tells a story of a farming area desperate for water, leaving the entire community poor and depressed (emotionally too.) The river has dried up, the fire danger is extreme, and people feel guilty for taking showers longer than 2 minutes. This creates a supercharged atmosphere for a crime to occur, and many levels of difficulty to wade through the suspects.
The other bit I really loved was perfect amount of Australianisms used in the dialogue. It isn't overdone but it's done just enough that you can't forget where the story is set.
I will definitely read another book by this author!
I'm also counting this for the Reading Women Challenge 2018, and the Newest Literary Fiction groups's January theme of Australia.
Book 5 of 2018
View all my reviews