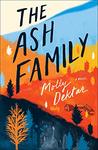 The Ash Family
by
Molly Dektar
My rating:
4 of 5 stars
Berie is supposed to be heading to college but gets sidetracked by a cultish commune in the Blue Ridge Mountains outside Asheville. I read this for the setting since I live an hour south of Asheville and have driven around tiny mountain towns with lots of nooks and crannies, even stumbled on what looked like a commune outside Gerton at one point. There are a lot of culty tropes here - the powerful man who breaks the rules others have to follow, people who seem to know secrets that are never revealed, people who disappear, hard labor and hunger used as control. It's a bit of a twist because the core members take environmental "action" that end up being quite more than peaceful protests, creating a somewhat ominous backdrop to Berie/Harmony's understanding of what it is all about.
What I love about this book, and what to me sets it apart from other cult/commune novels, is how the author captures the internal emotional turmoil of someone who is being brainwashed. It's astounding and unnerving and kept me reading to the end.
This came out April 9 and I had a copy from the publisher through netgalley.
View all my reviews