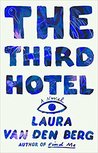 The Third Hotel
by
Laura van den Berg
My rating:
5 of 5 stars
This is my favorite work of the author's yet. After her husband's death, Clare travels to Cuba on the trip they were supposed to make together, to a horror film festival. Her husband was an academic studying the genre. But then she sees him in Havana....
The remarkable thing is that in just over 200 pages, the author creates so many layers - horror films, Cuban culture, psychological thrills, grief, the questions of if we can truly know another person - but at the same time manages to help the reader see all of it through Clare's eyes. Her observations and thoughts are beautifully and painfully written, and if I had a final copy I'd be quoting like crazy.
And since I rarely give five stars, I'll say it's the great writing added to a layered, interesting, nuanced story that did it.
This will be a great late summer read!
Thanks to the publisher for providing access to this title through Edelweiss and NetGalley. It comes out August 7, 2018.
View all my reviews