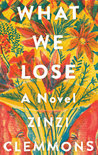 What We Lose
by
Zinzi Clemmons
My rating:
3 of 5 stars
I jumped on this one for a buddy read in the Newest Literary Fiction group.
This was a quick read but a confusing one. I feel like the description led me to expect a pretty straight forward novel about a South African childhood and loss. Instead it reads like a braided essay in longform, a memoir of sorts, with attempts to pull in other information. But it also feels unfinished, with several more revisions needed to really make the transitions work, to bring the emotion in balance with the events, to flesh out a better level of detail of the actual events making up the "novel." It reads more like a summary much of the time, an overview, rather than a series of events that come together for an actual story.
I respond to emotion in writing, when it is presented in a way that brings me into the story. I expected this to have incredible resonance since I recently lost a parent to cancer. But I felt like an outsider the entire time. There is something about the way that the internal aspects of the story are presented that don't welcome you, rather they leave you wanting to turn away.
I think if you are looking for a narrative to explain a South African childhood, I can better recommend
Born a Crime: Stories From a South African Childhood
.
This was provided by the publisher through NetGalley in exchange for an honest review.
View all my reviews